The Grand Staircase was one of the main First Class areas aboard the RMS Titanic. It was an opulent staircase spanning six decks (Boat Deck to E-Deck), continuing through to F-Deck as an ordinary stairway. The walls were wood-panelled, with several iron-and-gilt-bronze balustrades and wooden fixtures such as pineapples and cherubs. A large glass dome topped the staircase.
Behind the staircase there were three lifts going from A-Deck to D-Deck, operated by a lift attendant. The lift attendant knew the ship well, and could provide directions to passengers.
The Grand Staircase could be acessed from the exterior via the port and starboard vestibles (which led in from the Boat Deck), and from the A-Deck Promenade (which had doors leading into the A-Deck landing. It also provided access to the Reception Room, located on the foot of the stairs, and the Purser's Office on the C-Deck landing. The A-Deck landing also featured a corridor leading into the First Class Lounge. The First Class Cabins areas were all connected to the different levels of the Grand Staircase.
The Boat Deck landing featured a clock surrounded by an intricate oak carving depicting "Honour and Glory Crowning Time". Passengers (and crew) that could be found around the Grand Staircase included Leyland Trask, Stephanie Burns, Henry and Ribeena Gorse-Jones, John Smethells and the Lift Attendant.
On the aft section of the ship, there was the Aft Grand Staircase, a smaller and somewhat less ornate staircase, but otherwise strongly resembling the Grand Staircase.
During the sinking, the Grand Staircase is only accessable from the Boat Deck to C-Deck. If Carlson attempts to descend to D-Deck, he is stopped by a crew member who informs him to get up top, as the water is flooding E-Deck.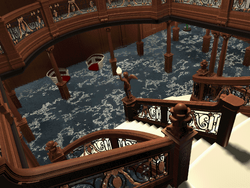 In the demo, Titanic: The Lost Mission, Frank Carlson first meets with Penny Pringle on the Boat Deck landing of the Grand Staircase.
During the sinking of the ship, clips that depict the flooding of the Grand Staircase erroneously play while the ship is still afloat. Immediately afterwards, the player can go to the perfectly dry Grand Staircase just after seeing it flooding. Strangely, the same clips then show again as the ship finally sinks.
In the actual Titanic, the lifts behind the Grand Staircase ran until E-Deck. There were no also no doors on the landing that runs from from D- to E-deck.